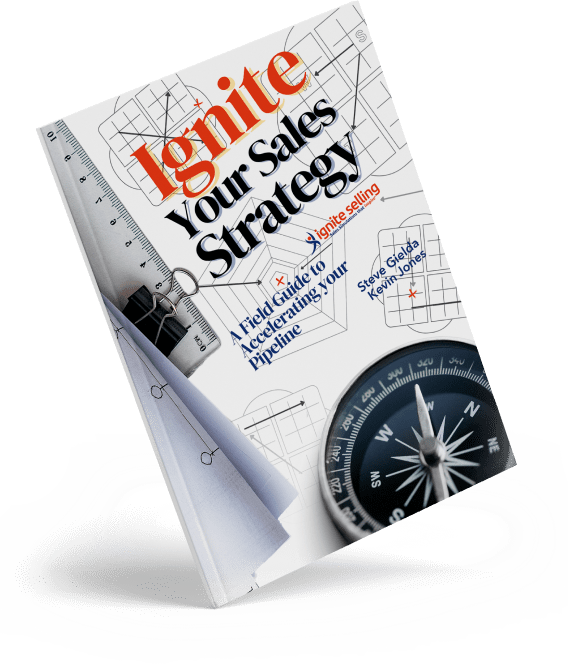 Ignite Your Sales Strategy:
A Field Guide to Accelerating your Pipeline
by Steve Gielda and Kevin Jones
It's time to uncover the secrets you need to beat your competition, win more opportunities and accelerate your revenue– without ever questioning yourself again! 
You're about to take your sales strategy to the next level by adopting exclusive, simple but heavy-hitting tools that have been 100% proven to give your strategic thinking and strategic planning the boost they need.
But perhaps best of all, you'll never have to fill out another "opportunity planner" or unnecessary paperwork again!
Is today the day you start challenging your assumptions so you can accelerate your key opportunities through the sales pipeline quicker?
The choice is yours…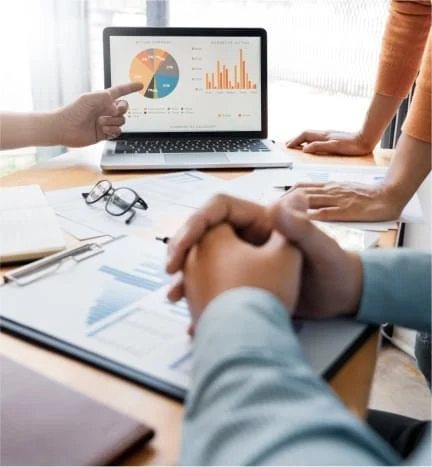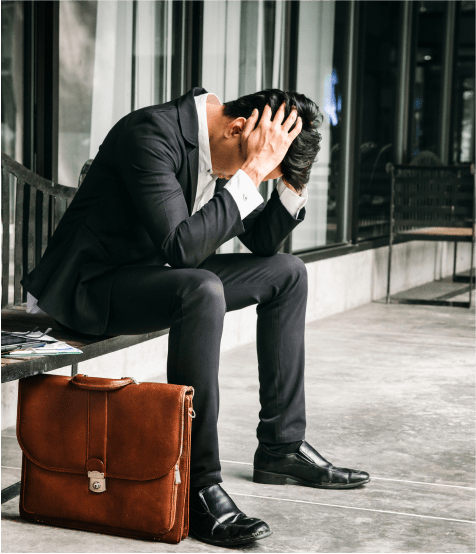 As a salesperson, you've chosen a career path that's rife with heavy competition, customers who sometimes just won't bite and sales training programs that leave you with nothing but sleepy eyes, forms that your managers rarely discuss with you and useless sales strategies that you've already tried countless times– to no avail.
Often, you're left with one lingering question that you just can't shake…
What's the point?!
On one end of the spectrum, you're met with your low-performing peers: folks who always just seem to eke on by, closing an opportunity every once in a while– and hardly caring enough to do even that much.
On the other end, you have your high-performing counterparts to contend with: those top performers who seem like they don't have to lift a finger to surpass quota after quota– leaving you feeling like the unseen, unheard and underperforming middle child of your sales team. 
You're still hitting your numbers.
You're still winning a handful of your opportunities.
But you're also losing just as many of them.
You still have room to grow.
And most of all…
You still want to grow.
You're still searching for the frameworks, tools and processes you need to develop a sales strategy for each unique opportunity in each of your unique accounts.
 Today, that search is over. 
Once you do, you'll be able to:
Eliminate the pressures and anxiety that come with closing on those

high-pressure, high-value

sales opportunities
Stop making

common assumptions

within the critical milestones of each phase of the sales process

Accelerate

your pipeline revenue
Implement the

exclusive tools

used by renowned, top salespeople among a wide range of industries
Ensure that every prospective opportunity that presents itself is approached with discipline and focus– not just through

relying on discounts

and blind faith that you'll win
Determine the

buying factors

that impact each opportunity
Develop a

consistent and repeatable framework

for strategic planning
And far, far more!
Sales success won't sit around waiting for you.
So why are you waiting for it to fall into your lap?
And when you do, be sure to save your order number so you can claim your FREE bonuses below!

Have you ordered your copy yet? Are you ready to
claim your FREE bonuses?
Just enter your information below!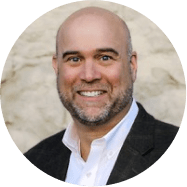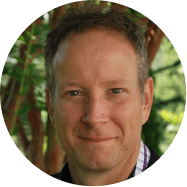 I read Ignite Your Sales Strategy and it provides sound discussion supporting the essence and spirit of following your company's sales process. I like the contrast between Susan and Mike. It works to show the differences of process and strategic opportunity planning between the average performer and the top performer. It is an easy and great read – Well done!
-Mike Wijas
Vice President Sales
Olympus America Inc.
A commercial organization's most valuable assets are people and time. Ignite your Sales Strategy provides a suite of elegant tools that helps sales managers challenge the critical thinking of their sellers that result in compressed timelines, increased value per customer interaction and pipeline predictability.
– Alain M. D. Adam
Sr. Director, Commercial Acceleration
NeoTract|Teleflex
I have been managing high performance sales teams on a global basis for over 25 years, Ignite Your Sales Strategy is a proven method to simplifying the complex sales environment through a defined process delivering real results.
– Todd Hokunson
Chief Commercial Officer
Metrasens
Steve Gielda and Kevin Jones have hit the mark when it comes to clearly identifying and providing real world practical tools to help sales teams achieve their business goals. The straightforward, easy to apply tools are on target, and can be easily implemented by any sales team which is exactly what sales leaders need today.
– Robert Conti
Managing Partner
Revenue Partner
In my 25 years in sales enablement, no company where I've worked has had a well-defined sales pipeline process. An understanding of how to not only build the process but to customize it to the organization is the foundation for all other selling activities. Ignite Your Sales Strategy provides the essential process and tools for all sales organizations.
– Jeanne Tari
Sr. Director Sales Enablement
Doma
I first met Steve Gielda over 25 years ago and saw him present at a Huthwaite National Sales Meeting. My first thought was, WOW, this guy is a masterful salesperson. Now Steve and Kevin have captured their years of experience helping other sales professionals excel. As they suggest at the end of Chapter 6, you can choose to ignore these proven concepts at your peril. Apply them and watch your win rates and commissions increase. 
– John Hoskins
Founder/Author
Level Five Selling
Our selling organization has deployed and utilized most of the off the shelf sales methodologies, but Ignite your Sales Strategy has a custom approach with simple tools that allows for a consistent, easy to adopt selling approach for all our unique business units. 
– John Lee
Director Global Sales Training, Urology & Pelvic Health
Boston Scientific
Selling in today's competitive environment takes a strategic mind, disciplined approach and knowing how to partner with your customer. Ignite Your Sales Strategy focuses salespeople across these domains by challenging their critical thinking and providing easy to use tools to win. 
– David Brin
Senior Director – Learning Strategy and Operations
GE Healthcare
This book helps validate why price is rarely the key that locks in the deal. If it is…it's a race to the bottom! Truly uncovering and aligning to our Customer's Decision Criteria is integral to success. 
– Shane Robinson
Global Sales Trainer
Abbott
Understanding your organizations sales process and the milestones that define each stage is the lifeblood of the commercial team and the foundation for all other cross-functional activity. Ignite Your Sales Strategy is proven and will serve the needs of any sales organization in search of increasing revenue!
– Cory Sinning
AVP Sales
Intersect ENT, Inc
Salespeople spend too much time in their comfort zone, focusing on those individuals that like them, hoping they can carry their solution across the finish line. Ignite Your Sales Strategy provides an easy-to-use set of tools to help salespeople proactively identify key influencers and develop proactive strategies to leverage advocates and neutralize adversaries. When salespeople stop assuming who the key influencers are and what's driving their desire to change or not change, the net result can be more sales and successful implementations.
– Heather Fraser
Executive Director
Global Investment Banking Company

Copyright 2022. Ignite Selling. All rights reserved.