Have you ever heard the term "Death by PowerPoint?" If you've done any sales training or been around the participants of training over the last 10 years, then you've probably heard this term. "Death by PowerPoint" is a term used by far too many people as a way of describing a sales training experience. Imagine this familiar scene: Your Company is hosting a sales training program. You walk into the meeting space and see workbooks laid out neatly on the table. At the front of the room you see the word "Welcome" projected on a large screen. You know that this is the first of many PowerPoint® slides. There to greet you, likely with a cup of Starbucks coffee in his/her hand is the so-called "Sage on the Stage." If you have been to a sales training class in the last 10 years this should sound familiar. Aside from the change from acetate slides to PowerPoint technology, sales training classroom methodologies haven't changed much over the last 20 years. The industry still seems to believe that it needs a projector to communicate ideas and the so called "expert" to teach people.
A significant percentage of sales professionals simply do not get excited about the prospect of attending a sales training class. In fact, if given the option, many would opt out. Some will go along in search of that "nugget" – or something they can add to their already full arsenal of skills. If a class is going to provide skills or ideas to help one become more effective and more successful in their job, then why aren't more people excited about attending? Here are a few reasons:
Most sales reps believe they have already been through sales training at a previous job and from the looks of things (see the story in paragraph one) this training won't be much different.
Top performers are good at what they do! Many resent being taken out of the field to be taught skills that they already know by "an expert" who is frequently not from their industry.
Sales people are active people. They spend a typical day on the go. Sitting in a classroom watching PowerPoint® slides for a day or two is exhausting simply because it lacks physical stimulus.
PowerPoint driven classroom methodologies worked okay for a number of years, but with the quickness and creativity sales reps have today, not to mention millennial babies now stepping into sales roles, these types of designs are no longer good enough. Sales training shouldn't be taught from the front of the room from someone telling war stories. Sales reps learn best from their peers and through experience. Sales training today must provide opportunities to share best practices and do it in a way that is realistic and relevant to the challenges salespeople are facing in the field.
Salespeople are a more important strategic asset to a company than ever before. In today's market, a salesforce not only must be able to sell a competitive advantage but they also must be a competitive advantage.
Companies continually try to give their salesforce the skills needed to become a competitive advantage by taking the sales teams out of the field—away from their customers—and into a classroom. The total cost of a training session is not simply the price of the program; it also includes the cost of lost time in the field with real customers. Given these cost elements, it is imperative that all sessions be valuable to the sales team and provides high impact to the company.
To ensure that your sales training sessions bring the high impact you need, it is important to follow two key principles: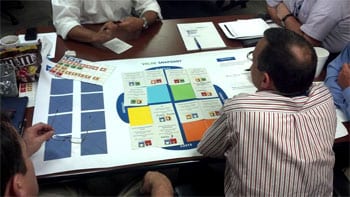 First – Adult learners are responsible for their own learning. To create high impact, it is critical that you first start by setting proper expectations about the intent of the training and the impact the training will have on the individuals in the classroom and how those individuals will then help the company achieving its goals.
Second – Every individual in a classroom is unique and has an individual learning style. If you're using the same learning method (i.e. PowerPoint or lecture) for everyone, you probably aren't getting optimal results.  High impact training must deliver a message that engages the sales people to the complex skills and process needed to succeed on the job, but must do so in a way that is creative and relevant.
Over the past 18 months, the partners at Ignite Selling have begun to develop the next generation of sales training – a program design that maximizes the use of adult learning principles through a training modality we call Interactive Learning Maps™.  A learning map highly graphical table top poster that serves as a game board for learning. It contains models, activities and opportunities to place learning objects or write down ideas. We have based the design of all skill-based programs, such as opportunity strategy development, face-to-face selling skills, coaching skills and negotiation skills on this training methodology. Because of this, auditory, visual and kinesthetic learners are all engaged throughout the entire process. There is no death by PowerPoint in these programs. In fact, in many of these programs we've eliminated PowerPoint altogether. Imagine the reaction of participants when they walk in the room and don't see a projector and a screen at the front of the room. Instead they see a game board, some cards, or some stickers. They know this is going to be a different kind of learning experience.
The value of Interactive Learning Maps™ goes beyond merely engaging all types of learners. Interactive Learning Maps™ enhance the ability to teach complex, interconnected concepts and ideas. When using an Interactive Learning Map™, teams create a "record" of their experience. Because they create it themselves, they are more apt to recall it than they might a PowerPoint slide they saw earlier in the training session. This makes it easier to refer back to past ideas or pull from previous exercises. Instead of saying "flip back to page XX in your workbook…," you say, "Look at the Learning Map you completed earlier today…" Selling isn't simple. We are building complex skills that are interrelated to one another. The ability for a trainer to link module to module is essential, and Interactive Learning Maps™ make it easier.
Below is an example of one of our Premeditated Selling Strategic Interactive Learning Maps™. The intention of this Map is to teach the concepts behind the Influencer Snapshot™.  This Map focuses on the idea that you have to understand the Key Influencers who will impact your ability to succeed in a sales opportunity. In any opportunity, we need to identify who likes us (Advocate) and who doesn't (Adversary), and then we have to assess the level of Influence they have on this opportunity. The Influencer Snapshot help one visualize the influencer network inside an opportunity and identify areas of strength and weakness is their current advocate base. The first element of this Learning Map is to gain a deep understanding of the definitions of terms used in the tool, such as Strong Advocate or Strong Adversary. The boxes on the left allow participants to put meaning to the terms. The second element of this Learning Map is to assess a case, and plot the Key Influencers on the Influencer Snapshot tool using character stickers. Next, teams are asked to determine how the characters need to move (i.e. become less of an adversary, or increase level of influence) if the salesperson is going to improve their chances of winning the opportunity. And lastly, the space on the left requires the learners to develop and post the strategy needed to make the Key Influencers move to the desired position within the Influencer Snapshot.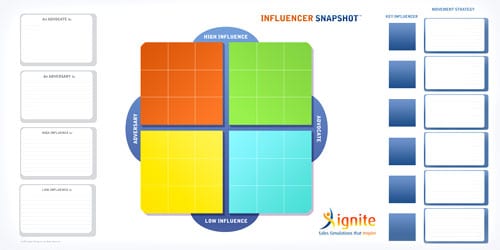 To learn more about Ignite Selling's Interactive Learning Map™ process and the series of Competitive Sales Simulations, please contact us at 703-266-7667.