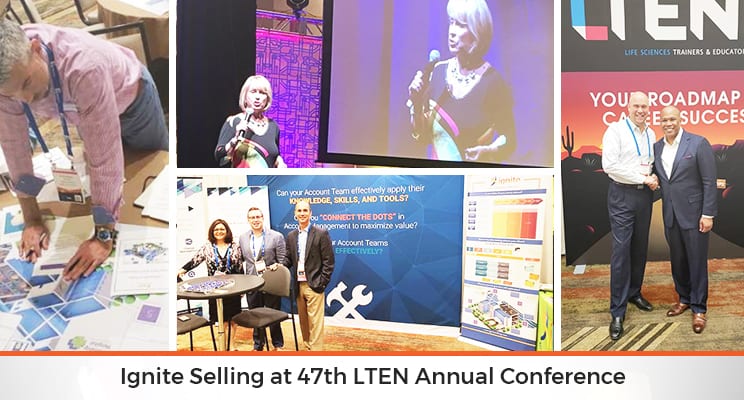 This was my third year attending LTEN Annual Conference and each year they seem to get better.  The LTEN Board listens to the interests and needs of their members and provides an annual conference that strives to exceed our expectations. There are five key takeaways I had from this year's conference, they are:
Learning from peers.  I have found that those who attend this LTEN Conference are smart.  They know their company sales strategy, marketing plans, economics, and of course, the sales training curriculum.  More importantly, they are willing to share their own lessons learned for the benefit of helping others. 
Engaging Topics. You can never guarantee that each speaker and each topic that is being presented is going to knock your socks off, but this year's LTEN had some outstanding topics and presenters.  No one likes investing money to sit in a conference to simply rehash topics that have been around for a decade. The workshops this year challenged my thinking and introduced new ways to approach a problem.
Are you a Circle, Square, Triangle or Squiggle? Connie Podesta was funny, engaging and insightful.  Her simple personality trait model had most of us in the room laughing because how she was describing each of us was true. Throughout the rest of the conference, I found myself looking at nametags or asking; "Are you a Circle, Square, Triangle or Squiggle?"   This simple model reminded us that sales training should NOT be provided in one modality. Sales training and coaching should be provided in a way that drives understanding, participation and proficiency for all learner and communication styles.
Driving Application of Learning. This was Ignite Selling's first time investing in booth space at LTEN.  I was amazed at the number of people who stopped by our booth to confess that they were struggling with sales training and coaching, particularly skill application. We heard from many that though they offer post training reinforcement options, leverage mobile learning wherever possible and teach their Managers to coach the skills and knowledge they're providing, the adoption rate of what they're teaching is still weak. Our topic of Competitive Sales Simulations for Sales Training became a very hot topic quickly.
Real Learning, Real Results. Let's face it, no one likes to be lectured and Ignite Selling understands sales reps and what it takes to succeed in a competitive selling environment. We recognize that people learn by doing. We all know that you can't put a bunch of sales people in a room with a PowerPoint projector and expect them to retain anything.  Well, it's even more true with sales trainers! So, when we were given the opportunity to present at LTEN, we put our research and beliefs into practice and WOW did it pay-off well!  Ignite Selling presented with WLH Consulting on Driving Application of Learning to improve Proficiency.  We had 17 different companies who participated in our session, all challenged by the same question; "how do I drive stronger application and adoption of the skills training I'm providing?"  To help answer this question we built a competitive sales simulation and provided an opportunity for the participants to compete against one another.  During this fun, engaging, challenging simulation, the participants discovered how they could use a competitive sales simulation for training to drive adoption of what they are teaching. We also designed a module for post training reinforcement that ensured higher adoption and success.
To explore the concept further, we are opening it for a larger audience by hosting a free webinar with LTEN named: Waking up the Dead: Using Competitive Sales Simulations to renew Sales Applications on Wednesday, June 27th 2018, 2:00 PM ET/ 11:00 AM PT.
The 60-minute free webinar will combine the engagement of on-the-job realism with the safety net that learning sessions provide. It will allow participants to understand how competitive sales simulations can rapidly upskill teams, provide opportunities for real-time coaching and feedback and give clear assessments of new skills application. I will drive the session with a group of distinguished panelists from the industry that includes Jason Raak, Head of Strategic Market Insights, Siemens Healthineers. I look forward to interacting with all of you in the webinar.
To register for the session, click on the link: https://bit.ly/2HrDfim
This article is written by Steve Gielda and first appeared on LinkedIn.