The Research:
Over 80% of frontline sales managers and reps agree that learning from peers is hugely valuable, and more effectively develops critical thinking skills. (1)
The Problem
There's tremendous value in enabling your frontline sales managers and reps to learn from each other. However, sales training is often delivered through isolated eLearning or passive PowerPoint-driven lectures. When this happens, significant opportunities are missed to share proven best practices and troubleshoot real-life situations reps will encounter every day with customers.
The Solution
Start by requiring sufficient peer-to-peer learning opportunities and time in your sales training instructional design.
Focus on active learning, even with eLearning, through discussion forums and assignments.
Create holistic, realistic scenarios that require critical thinking and discussion to arrive at the best outcome.
Inject some fun and team competition into your sales training to encourage collaboration.
Be deliberate about orchestrating learning opportunities, such as pairing inexperienced reps with experienced reps.
Consider collaborative technologies that motivate and make it easy to ask questions and share experiences.
How Ignite Selling Helps
Our Learning Map methodology serves as a game board for learning. It contains models and activities that use multiple learning objects to engage the learner. We leverage these learning maps in all of our sales skills programs, such as opportunity strategy development, face-to-face selling skills, and coaching skills. The auditory, visual, and kinesthetic appeal enable the learners to remain engaged throughout the entire process, and research has proven that this learning drives better retention and application of the learning. We don't use any PowerPoint presentations in these programs.
(1) How to Supercharge Sales Training for Maximum Impact, SellingPower
Related Posts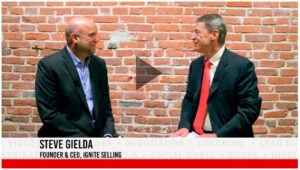 Selling Power TV: How Peer-to-peer Learning Brings Value to Sales Training