by Steve Gielda, Ignite Selling's CEO
If you plan to deliver sales training at your national sales meeting, it's important to align your training with a strategically relevant topic.
Over the past 20 years, we've participated in hundreds of our clients' national sales meetings as trainers, coaches and observers. When it comes to training at such events, we've seen firsthand what works and what doesn't. We recently pulled our collective learnings into the following "7 Unbreakable Rules for Delivering Effective Training at Your National Sales Meeting".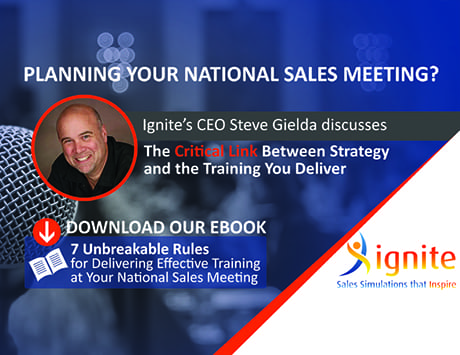 This guide drills into these rules a bit deeper to give you some practical guidance to get the most impact from your efforts.
Rule 1. Pick a strategically relevant topic
Training at a national sales meeting should be relevant to your business strategy and underlying conference theme. Participants take training more seriously if they understand the connection between what they are being asked to learn and why they need to learn it. We call this "strategic relevance".
Selecting a strategically relevant topic can be as easy as having a business conversation around what's happening in the market, what that means for the business, and how it impacts what we say and do to create opportunities, win business and grow accounts. It could also mean looking back at wins and losses to build on strengths and shore up weaknesses.
For example, maybe there's a newly funded, disruptive competitor that's trying to take market share, or perhaps you're placing big bets on a new product or business process. Legal and regulatory changes can also have a huge impact on your business and how you prioritize and approach customers.
Always triangulate the training with the business strategy and learner's perspective to highlight what's in it for them. And, whenever possible, integrate training with other themes stressed in your meeting.


Using Sales Simulations to Deliver High-impact Training at Your National Sales Meeting
We believe that sales simulations are the most effective approach for delivering high-impact training at national sales meetings. Sales simulations create a high-energy, competitive, active learning experience that helps salespeople and managers overcome the common obstacles they encounter in the market every day.
For more information on how we can help you, please call us at (703) 234-5275 or email [email protected].