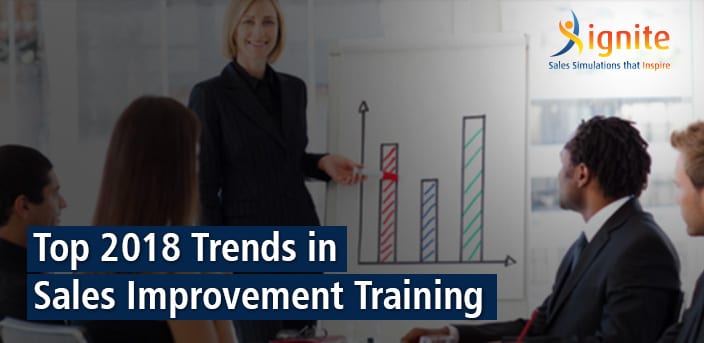 Whether you're trying to build a sales training program for your teams or looking to revamp an existing one – making it more relevant, focused and efficient, this article seeks to bring you trends that we think will dominate this year's landscape and help you structure your plans in the next 12 months. This edition of top four trends is based on the issues and opportunities that Sales Leadership is facing today. The report delves into the experiences of our customers that helps us to identify strategies one can choose to succeed in today's ever-changing market.
Sales Teams are continually trying to succeed in an increasingly complex market – driven by new technologies, varying structures, shifting priorities and multiple audiences to appease. In this environment, we have witnessed that many Sales Teams find themselves moving away from what constitutes the core of smart selling – staying on course with a validated and repeatable sales processes, measured by critical milestones. To further exacerbate the scene, we are seeing the emergence of new ways of learning every day that puts additional pressure on the Sales Teams to stay ahead of the competition and new developments.
The top trends of 2018 take all this into account and create the next level of efficiency gains in Learning and Development (L&D) in general and Sales Training in specific. The article shows not only how companies should adapt to these trends, but also how they can use these trends to passionately establish a culture of Selling that celebrates the rigor of the existing sales process while embracing all the new changes and opportunities.
1. Blended Learning using technology
The most significant enemy of any salesperson is time. There just isn't enough of it! Our clients are continually seeking faster, more efficient ways to teach their teams. The good news is that in today's world, there are many exciting technologies available that can change how training is delivered. New technologies allow Sales Leadership to reinvent and redesign traditional corporate learning environments and help them deal with expectations of lightning speed responses. In the recent years, we have seen a decisive move to create newer, and more fluid approaches that help learners pick up new skills and techniques giving them more control of the learning process. For the new learner, the focus has shifted from scheduled, day-long, PowerPoint-based learning sessions to in-the-moment, on-the-go learning. This could be in the form of a video, an article, a quick case study discussion with a colleague, online chat, audio files and surveys that convey learning materials in a swift, easy-to-absorb format, allowing the learner to understand and deliberate on smaller pieces of information and learning. This trend addresses the need to reduce travel expenditures, to minimize the time away from the field, and to meet the learning requirements necessary of the contemporary workforce who are accustomed to the frequent use of technology and are less inclined to tolerate sitting in a classroom seat for hour upon hour.
However, our research construes that technology-enabled learning will not completely replace the classroom-based training. In fact, this kind of learning experience extends seamlessly to classroom-based ones – driving higher retention of the lessons learned. The format facilitates the learners to evolve skill sets continually and will push Sales Training to curate and enable modern learning experiences.
2. Collaborative Learning
In a recent survey* of sales reps and managers, 91 percent of reps agreed that trading ideas with peers help them succeed, especially colleagues who are in the field and interacting with customers every day. In the same survey, 65 percent of sales reps agreed that pitch advice from peers is more efficient than training from the corporation.
Our experiences with both Fortune 1000 companies and smaller ones have revealed to us that Corporate Sales Training Programs – especially those that clearly align with or define the sales process, the approach and the critical milestones are essential to ensuring accurate positioning and messaging consistency, and it is not going away anytime soon. However, critical discernments from peers on how to identify red flags, manage competition and handle objections, are invaluable sources of learning and enhances applied skills. By discussing their experiences, learners not only absorb new ideas, but see immediate relevance and real-world application of those ideas. The collaborative learning environment, not just compels participants to work together but also help them determine how to apply the new skills in their sphere of work best. We have often observed that in most cases, it minimizes questions of relevancy by skeptics in the audience. It is one thing to disagree with the ideas from an external sales trainer in the classroom, but it is much more difficult to go against your peers who have a firm understanding of your market.
3. Align Training Goals to Business Objectives
The big challenge many of our customers experience is figuring out how to more closely align training goals to business goals. In the recent years, this challenge has become paramount – sometime superseding all other discussions. It did not take long for companies to realize that treating training as an independent domain was suboptimal at best. Elaborate and complicated training sessions deliver little value without alignment to broader strategic and operational goals. According to LinkedIn's 2017 Workplace Learning Report, one of Learning & Development practitioners' top five challenges in aligning training to their organizations' overall strategy. Still, many organizations fail to do the work necessary to align training initiatives to key corporate strategies. This means the investments made in training don't get realized or, at the very least, the investments don't get credit for driving outcomes. It is important that organizations align training to actual business needs; first by identifying business objectives; second, by mapping these objectives to learning outcomes; and finally, by measuring the outcomes. To ensure the alignment of training goals with business objectives, L&D teams will need healthy relationships and frequent communication with the corporate leadership. The results will make learning indispensable to the organization's success.
4. The Millennial Workforce
Research from AON Hewitt predicts that millennials will make up 50% of the workforce by 2020. It further elaborates that currently 55% of millennials are not engaged at work and that disengagement costs the U.S. economy somewhere between $284 and $469 billion annually in lost productivity. Millennials are modern learners who display a strong desire to learn continuously. In fact, many studies have shown that they are most engaged and at their productive best when they are both learning and contributing. We have experienced first-hand at organizations where we have implemented programs designed for inter-generational learning. We also understand that this shift from heavily investing in classroom style training to learning on the go through a variety of sources and devices creates a difficult challenge for L&D teams. We believe that with technology and strategically designed programs, it is possible to address the needs of the evolving millennial learner. Microlearning, which allows learners to look at small learning units and short-term learning activities delivered in learning bursts no more than 2-15 minutes in length, is suitable for the new learner. However, this training must be relevant to the specific and dynamic challenges that Millennials encounter; it is crucial to ensure that the content addresses a pressing need and provides a solution in a real environment. Sales Simulations and applications that are relatable for the learner will ensure there is retention and recall of the information.
Over the course of the year, organizations need to consolidate, rethink and diversify the learning proposition in creative and meaningful ways to embrace technological advancements, appeal to the millennials and widen opportunities for learning across generations. While successful L&D functions have done so already and are far ahead of the curve, many still need to overhaul clunky learning environment, rigid formats, outdated learning methodologies. The new year will bring new challenges for them, but with some rethinking and redesign, one can reap significant value and impact of their learning programs.
This article is written by Steve Gielda and first appeared on LinkedIn.