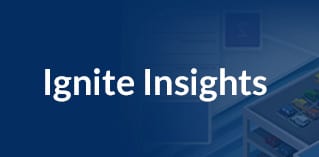 We are delighted to start our newsletter series again. With Ignite Insights, you will enjoy the industry insights, trends, and thoughts from our leadership team and customers curated and brought together in each of these editions. Also, we will share corporate news and event updates so that you are always the first to know!
For many businesses, the change of the calendar year presents the push needed to launch new initiatives and efforts. However, most find the task daunting and struggle to identify new directions most appropriate for their business. This edition of the newsletter is thus devoted to unearthing trends that will sweep the Learning and Development function in the months ahead so that companies can start shaping their unique strategies to stay ahead of the competition.
2018 could be a year where perhaps the broadest impact of how buyers buy and sellers sell products and services may be felt. Training Industry, Inc. cites "speed" as the factor of success in learning and performance development this year. How training planners and designer can develop processes and programs to reflect the changes in the business in the shortest amount of time will derive results. Finally, it will be crucial to ensure that the training team will have to improve learner's proficiency in the shortest amount of time. By now it is firmly established that one-size-fits-all training doesn't work, and we believe that the industry will see mass customizations, more focused on driving learner experiences with the learner firmly in the driving seat. We are also witnessing a fascinating trend – more and more organizations are now formalizing the coaching process, and the facilitators are moving beyond traditional facilitation skills and learning coaching skills. Another key direction, which is becoming an essential part of Learning and Development is the aspect of deliberate practice which is becoming a vital part of the reinforcement strategy. The good news is that the overall global training budget is expected to increase by 2-5% in the year ahead which proves that organizations see value in ensuring a culture of learning and developing that is aligned with business objectives. You can read the full article here.
###
Top Four Sales Training 2018 Trends
Within Sales Training, we saw significant changes last year, and in 2018, it is set to shift to an even bigger focus. Based on the experiences our customers have shared, we have identified strategies that will help build a culture of selling that celebrates the rigor of the existing sales process. Not only do we see increasing use of technology but extensive cross-pollination of ideas and learning and collaboration becoming the bedrock of Sales Training. Read our article that elaborates Sales Training Trends to expect in 2018.
###
Webinar Series to Ignite your Sales
We're pleased to announce a series of live webinars for our audiences to help them navigate the changing sales landscape using a process-orientated sales approach. Our objective is to inform, educate and equip our viewers with the sales process and toolsets required to prospect and close more deals more efficiently. The first webinar, "Selling in the Brave New World" is scheduled on Wednesday, January 31 at 2 PM EST.
In this webinar, you will get to know how the sea changes in the customer's behavior is affecting the selling experience. We offer practical advice and strategies for sellers and Sales Leadership in how they ought to adapt. You will walk away with:
A guide that helps sellers use the right tool, in the right way, at the right time, with the right customer
A clear understanding of the implications related to abiding by a well-defined sales process, both for individual sellers and for sales leaders
New ideas for how you can make your own mysterious sales journeys more predictable, repeatable, and scalable
Click here to register for our webinar and reclaim the sales cycle.
###
News and Events
We will be back at the 47th Annual Life Sciences Trainers and Educators Network (LTEN) Conference , June 11-14 in Phoenix, Arizona. We are presenting and exhibiting too! Be sure to visit us for another exciting event. Keep watching this space for more details.